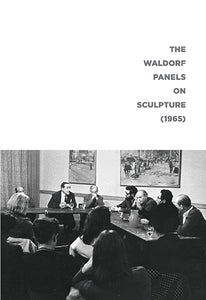 Edited by Natalie Edgar and Phillip Pavia
In the Spring of 1965, dozens of New York artists met for the two-part, invitation-only Waldorf Panels on Sculpture. Organized by Phillip Pavia, the proceedings of The Waldorf Panels on Sculpture were published in issue #6 of his magazine, IT IS. The discussions touch on a wide range of sculptural issues ranging from the status of found objects to thoughts on spontaneity vs. design to the expanding definition of sculpture to perspectives on Surrealism and Pop Art. In addition to heavy audience participation in both panels,
Panel 1 includes Herbert Ferber, Reuben Kadish, Ibram Lassaw, Phillip Pavia, James Rosati, Bernard Rosenthal, and David Slivka. Panel 2 includes Isamu Noguchi, Claes Oldenburg, Phillip Pavia, George Segal, George Sugarman, and James Wines. These transcripts, reprinted for the first time since their 1965 original publication, convey a strong sense of a genre—and an artworld—in transition.