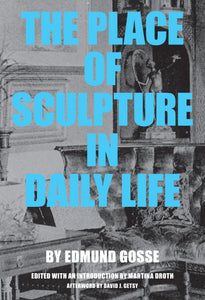 My desire has been to indicate the most practical modes in which we can employ the noblest and the most refined of the plastic arts in the adornment of our streets and public buildings on the one hand, and of our private houses on the other. —EDMUND GOSSE
Author, translator, librarian, and scholar EDMUND GOSSE (1849–1928) was one of the most important art critics writing about sculpture in late-nineteenth century Britain. In 1895, he published the The Place of Sculpture in Daily Life, a quirky, four-part series of essays that ran in the Magazine of Art under the headings "Certain Fallacies," "Sculpture in the House," "Monuments," and "Decoration." Often cited but never before reprinted, Gosse's essays sought to demystify sculpture and to promote its patronage and appreciation. Martina Droth's introduction and commentary contextualize the essays within their era, providing insight into the world of late-Victorian sculpture. David J. Getsy's afterword connects the essays' themes to the present, offering a resonant perspective on the sculpture of today.
EDMUND GOSSE (1849-1928) was an author, translator, librarian, poet, and scholar and one of the most important art critics writing about sculpture in late 19th century Britain. A champion of the renaissance of late-Victorian sculpture, Gosse dubbed this work the 'New Sculpture'. His translations of Ibsen helped to promote that playwright in England, and he encouraged the careers of W.B. Yeats and James Joyce. He also lectured in English literature at Cambridge. He published over 25 books, ranging from poetry and prose to criticism and histories. His account of his childhood in the book Father and Son (1907) has been described as the first psychological biography. Gosse was named a Companion of the Order of the Bath (CB) in 1912, and he was knighted in 1925.
MARTINA DROTH is Deputy Director of Research and Curator of Sculpture at the Yale Center for British Art. Her work focuses on sculpture and decorative arts with a particular focus on the nineteenth and early twentieth centuries. She is co-curator of the exhibition, Sculpture Victorious: Art in an Age of Invention, 1837- 1901 (Yale Center for British Art; 2014, Tate Britain, 2015) and co-editor of the accompanying book published by Yale University Press. Other recent curatorial projects include Caro: Close Up (Yale Center for British Art, 2012) and Taking Shape: Finding Sculpture in the Decorative Arts (Henry Moore Institute, 2008; Getty Museum, 2009).
DAVID J. GETSY is the Goldabelle McComb Finn Distinguished Professor of Art History at the School of the Art Institute of Chicago. He writes about art's histories of the human form and its alternatives. His books include Body Doubles: Sculpture in Britain, 1877–1905 (Yale 2004); Rodin: Sex and the Making of Modern Sculpture (Yale 2010); Abstract Bodies: Sixties Sculpture in the Expanded Field of Gender (Yale 2015); and, also with Soberscove Press in 2012, Scott Burton: Collected Writings on Art and Performance, 1965–1975.