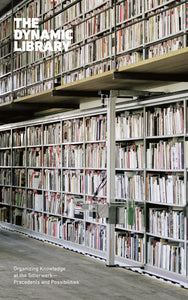 Edited by Ariane Roth and Marina Schütz, Translated by Alta L. Price
The Dynamic Library presents essays in translation from an interdisciplinary symposium on the classification and organization of knowledge held at Sitterwerk, St.Gallen in Switzerland. Home to over 25,000 volumes on art, architecture, design, and photography, the Sitterwerk's Kunstbibliothek (art library) began with the bequest of book collector and connoisseur Daniel Rohner (1948–2007). The question of how to systematically organize this idiosyncratic collection into a publicly accessible library was a fundamental concern, and a solution was found in a dynamic system of organization powered by RFID technology, which relies on digital tracking. The essays gathered in The Dynamic Library contextualize the Sitterwerk's associative classification system amid artistic and historical systems of order while pointing to future methods for incorporating subjectivity and serendipity into the organization of knowledge.
About the Sitterwerk: The Kunstgiesserei (art foundry) and the non-commercial Sitterwerk Foundation—with its art library, material archive, studio house, and Kesselhaus Josephsohn—form a dynamic space in St.Gallen, Switzerland, where traditional crafts and the most modern technologies are directly connected in both theory and practice. www.sitterwerk.ch.