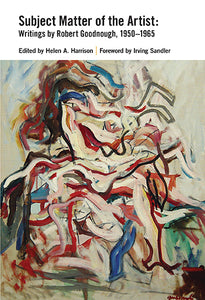 "As a painter and as one interested in education in relation to painting and drawing, the writer has become personally interested in the problem of subject matter in art. . . . Since there is controversy in regards to this tendency in painting, research directed toward the source of ideas involved in the work, it is felt, will help to make clear the intention of the artists. This research will deal with the attitudes of these artists toward their own work and their relation to tradition as they express it." —Robert Goodnough (1950)
The absence of traditional subject matter was a primary issue for painters in mid-twentieth-century America whose imagery lacked representational references; it was also a problem for those struggling to understand modern art. Robert Goodnough (1917–2010), then a New York University graduate student and an artist deeply involved with these issues, responded to the situation in a 1950 research paper, "Subject Matter of the Artist: An Analysis of Contemporary Subject Matter in Painting as Derived from Interviews with Those Artists Referred to as the Intrasubjectivists." Goodnough's paper constitutes the first scholarly work on the artists who became known as the Abstract Expressionists and includes interviews with William Baziotes, Willem de Kooning, Adolph Gottlieb, Robert Motherwell, Barnett Newman, Jackson Pollock, and Mark Rothko. This previously unpublished study is presented here for the first time alongside related writings by Goodnough.
ROBERT GOODNOUGH (1917-2010) earned his BA in fine arts from Syracuse University in 1940, but became aware of modern art by reading magazines while stationed in New Guinea during World War II. In 1946, Goodnough moved to New York City and attended the Amédée Ozenfant School of Fine Arts under the G.I. Bill; he also studied at Hans Hofmann's summer school in Provincetown, MA. In 1950, he earned an MA in art from New York University. Goodnough credited his teacher, the architect and sculptor Tony Smith, with opening the door to the New York avant garde. On Elaine de Kooning's recommendation, he wrote art reviews and feature articles for ARTnews from 1950 to 1957. Goodnough created and exhibited work, which "exploited the tension produced by explosive energy held in check by a solid structural framework," for over a half-century; his first one-person exhibition took place in 1950 followed by solo exhibitions at the Art Institute of Chicago (1960 and '61); the Whitney Museum of American Art, the Albright-Knox Art Museum (1969); and the Neuberger Museum of Art (1999). His work was shown in major group exhibitions, including The Art of Assemblage, MoMA (1961– 62) and the 1970 Venice Biennale, and it is in the collections of major museums, including MoMA; the Metropolitan Museum of Art; the Solomon R. Guggenheim Museum; the Smithsonian American Art Museum; the Art Institute of Chicago; the Chrysler Museum. Goodnough's work is held in many private collections, and his public art is in the the Manufacturers Hanover Trust Building in Manhattan; Chappaqua Library in Chappaqua, New York; and the Ossining, New York Metro North station, among other locations. Over the years, Goodnough's work has been represented by galleries including Tibor de Nagy Gallery (NYC); André Emmerich Gallery (NYC); Harcus Krakow Gallery (Boston), Katharina Rich Perlow Gallery (NYC), and Margot Stein Gallery (Lake Worth, FL).
HELEN A. HARRISON is an art historian, journalist, and Director of the Pollock-Krasner House and Study Center in East Hampton, NY.
IRVING SANDLER is an art critic, curator, and Professor Emeritus of Visual Arts at SUNY-Purchase.
*This publication serves as a companion to another text documenting American modern art at its inception, Artists Sessions at Studio 35 (1950), which was also organized and edited by Robert Goodnough.