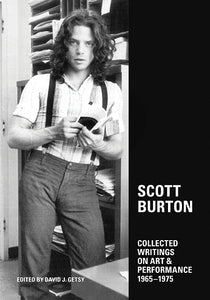 Before gaining widespread recognition for sculptural work that sought to dissolve aesthetic boundaries, most notably between sculpture and furniture, Scott Burton produced a substantial body of art writing in the late 1960s and early 1970s. An eclectic and wide-ranging critic, he wrote such important texts as the introduction to the groundbreaking exhibition "Live in Your Head: When Attitudes Become Form" and served as an editor for both ARTnews and Art in America. In these same years, Burton became known as a performance artist, developing themes he pursued in his writing. Yet, his role as an artist-critic has rarely been discussed.
Scott Burton: Collected Writings on Art and Performance, 1965–1975 brings together for the first time Burton's essays and unpublished manuscripts from these years, tracing his work as an art critic as well as his early statements on performance. In his writing, Burton championed positions that others held as mutually exclusive and antagonistic. He advocated for reductive abstract art while defending figuration, and he argued for the urgency of time-based and ephemeral art practices in the same years that he curated exhibitions of realist painting. Distinct in these diverse texts are Burton's increasing concerns with art's appeal to affects, empathies, and subjective responses; the early formulation of his desire to make art public and demotic; and his critical grasp on the implications and exclusions of mainstream narratives of art. This collection offers rich new context for Burton's sculpture and public art and reveals him as an important voice in the rapidly changing art world of the 1960s and 1970s.  
DAVID J. GETSY is the Goldabelle McComb Finn Distinguished Professor of Art History at the School of the Art Institute of Chicago. Educated at Oberlin College and holding a Ph.D. from Northwestern University, he has been the recipient of fellowships from the Center for Advanced Study in the Visual Arts, the Getty Foundation, the Kress Foundation, and Dartmouth College. His books include Rodin: Sex and the Making of Modern Sculpture (Yale University Press, 2010) and Body Doubles: Sculpture in Britain, 1877–1905 (Yale University Press, 2004) as well as the edited anthologies From Diversion to Subversion: Games, Play, and Twentieth-Century Art (Penn State University Press, 2011) and Sculpture and the Pursuit of a Modern Ideal in Britain, c.1880-1930 (Ashgate, 2004). His research focuses on the history and theory of modern and contemporary art, with an emphasis on histories of sculpture and performance.