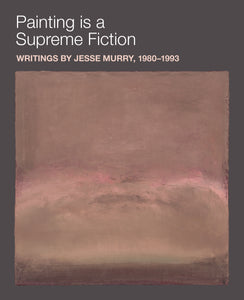 Edited and with an introduction by Jarrett Earnest
Forward by Hilton Als

Painting Is a Supreme Fiction presents the writings of artist and poet Jesse Murry (1948-1993), an extraordinary thinker who believed in the capacity of painting to hold the complexity of human meaning. This unprecedented collection brings together his published art criticism with previously unpublished philosophical writing and poetry from 1980 to his tragic death from AIDS-related illness at the age of forty-four. The result is a portrait of an original mind which sought to unite the histories of Romantic landscape painting with the realities of Black experience through "a belief in the restorative and creative powers of the imagination." In addition to Murry's writings, this volume also includes reproductions of selected works; excerpts from a a pair of panel discussions on art criticism and expressionism that took place in 1980; as well as transcriptions of two of the artist's notebooks, in which the spatialization of the words across the page approaches the condition of thought. Painting Is a Supreme Fiction presents Jesse Murry in his own words, offering intimate access to this remarkable figure.