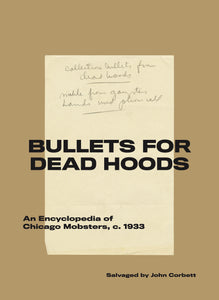 Salvaged by John Corbett
Writer, curator, and gallerist John Corbett struck thrift gold at a going-out-of-business Chicago junk shop when he stumbled onto a browned and brittle manuscript intimately documenting the Chicago mob of the early 1930s. The tone of its typewritten and hand-annotated pages immediately grabbed him—sensationalistic and funny, they read like an embellished police blotter, naming names, listing addresses, and recounting crimes. For all of the dossier's texture and personality, however, Corbett could find no clues as to the identity of its anonymous author.
Presented here in facsimile in order to capture its distinctive materiality, Bullets for Dead Hoods: An Encyclopedia of Chicago Mobsters, c. 1933 offers an in depth overview of the Chicago Outfit through 140 noir character sketches, which range from the infamous—Al Capone, George "Bugs" Moran, the Everleigh Sisters—to their lesser-known aiders and abettors. Whoever dared to put this testament together was clearly someone with access to information—a cop? a reporter? a bitter mafioso?—but who would've risked sharing these details, and why, is a mystery that will likely never be solved. What we are left with is an idiosyncratic introduction to a storied chapter in American history that knits Chicago together in a new way.
In addition to the full-color manuscript, Bullets for Dead Hoods includes related documentary material, an introduction by John Corbett, a compilation of more than 400 locations referenced in the manuscript, and a pull-out map of Chicago that pinpoints hundreds of street addresses.